Replace Installatron with Softaculous
Want to offer more apps to your users ? Offer 380 apps with Softaculous
Why migrate to Softaculous?
Softaculous is used by majority of the datacenters and hosting companies to offer a better and actively developed auto installer to their valued customers. Softaculous allows you to offer 380 apps to your users allowing them to choose the most suitable application for their site. The easy to use Import utility makes the migration process like a breeze for server admins.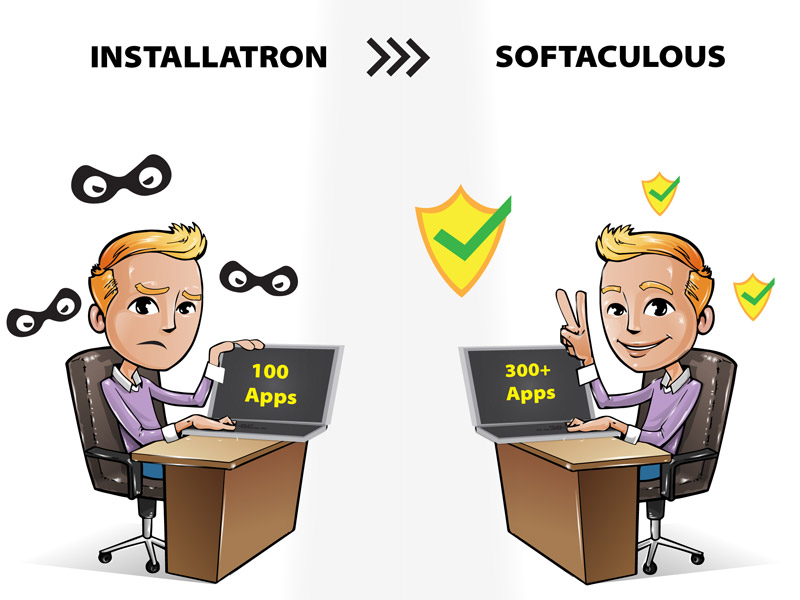 Because its all about APPS
By offering Softaculous you provide your users a huge list of apps to choose from. Your users can select the most suitable app for their project. Softaculous takes care of the complete lifecycle of the application from install to backup to update. Softaculous offers latest versions of applications so that your users install latest and secure apps and your users can upgrade their installations to latest versions. This makes your servers secure and improves branding of your hosting company. Softaculous core is regularly audited by industry experts to make sure your servers are secure.
How easy is it to migrate?
1. Install Softaculous (3 commands).
wget -N http://files.softaculous.com/install.sh
2. Import existing installations (1 command).
/usr/local/cpanel/3rdparty/bin/php /usr/local/cpanel/whostmgr/docroot/cgi/softaculous/import.cmd.php
3. That's it ! You can now uninstall Installatron !
Lots of servers to migrate ? Leave it to our migration experts. Contact our migration team and get it done at no cost.
Softaculous pricing is half that of Installatron and gives you the best value for your money. You will get nothing but appreciation from your customers after the migration.
Purchasing Softaculous for more than 10 servers ? Check the NOC pricing
Need bulk pricing? Contact the Softaculous Sales team to get a custom quote.